Like most of the items that make it to my wishlist again this month most of then are quite expensive, which at the moment is not a good thing – I have next to no money and what I do is being quickly spent on my college course. Not fun times.
This top is surprisingly similar to the top that I'm wearing now except this one has longer sleeves. Even the colour is the same as the bottom of my top, I'm loving this colour at the moment. I'm going through a phase where I love anything that's slightly on the loose side, I have a ridiculous amount of oversized jumpers that I live in. I'm talking buying a UK size 20 jumper instead of the 6 that I normally am, the looks that I got of the lady on the till when she asked who it was for and i said me were hilarious.
If you've been following this blog for a while then you'll already know of my love of statement rings, if not then you now know and I hope you enjoy your visit. In my opinion the bigger the better and seeing as this one would cover at least three and maybe just a bit of my little finger then this was always going to be high up on my must haves list. I love that even though the actual design of the ring is incredibly simple, it still manages to make a big statement. What I don't like about this so much is the price, at £85 it's a little on the pricey side, so as much as I love it I don't think that there's much chance of me owning it. A girl can dream though, can't she?
I think that this is going to be another thing that goes on my as much as I love it, I don't think that I'm going to be lucky enough to end up owning it. I'm thinking the closest that I'm going to get to owing this is coming up with a DIY. Cue sad face. I couldn't tell you exactly why I fell in love with this necklace but, it was love at first sight when I came across it on Asos. The colours in it are just gorgeous.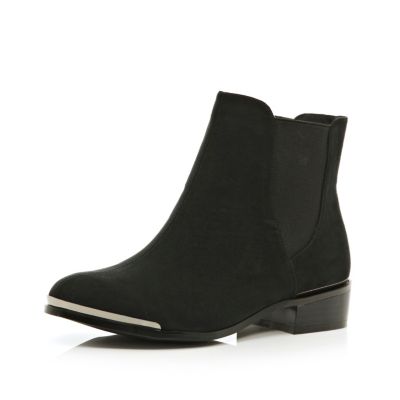 The Chelsea boots that I brought in the kids section at Asda a couple of months ago are fast wearing out. I love them to bits, they go with everything, I can walk around in them all day and they keep my feet nice and warm. Honestly if you haven't got a pair I demand that you go out and get a pair and while you're out if you can fit in anything from the kids section go and have a look, occasionally there are some amazing pieces that you can pick up at really good prices. If I could realistically afford it these River Island would be the perfect replacement. Especially with the metal strip around the toe area that sets them apart from other Chelsea boots a little.
Really starting to wish that I could get a job that wasn't just each summer, the money from this year's never going to last.
Sian
xoxo